Making a plan for the entire project as well as the schedule or timeline sometimes involves making a construction schedule too. So, what you need to do is to download our one of construction schedules we provide to you here.
What Is The Construction Schedule ?

The construction schedule is a document that shows the activities in a chronological sequence that would be finished throughout the entire building process. Several activities might appear simultaneously after you are finished with the previous one all the entire directions for these will be put on the construction schedule. Construction schedule doesn't only do that job, but also contains information related to the time amount needed for every activity.
How to Create a Construction Schedule Excel ?
Creating a construction schedule template Excel is actually simple as long as you understand all the information that you need to write down. It is usually activities in a day to day that would guide the team of construction on how to finish the entire project.
The essential thing is that it should have the entire project's information and timeline or schedule. This type of schedule actually is not limited only to industrial applications. You can create a schedule that is modified a little bit to tidy up the details of events you have or your life that you already have in mind. Several examples in using a schedule template are also including:
A timeline for activities in a specific event including a holiday trip and a wedding
A timeline or schedule to monitor all activities done by your family during a certain period of time
A project of a homeowner's renovation
One of the things to help you do your work easily is to create a schedule in your favorite software following the basic flow of this type of schedule. Our article today is all about creating that kind of schedule including the functions of it as well as the essential information that can help you do the work easily.
The Function of Having a Construction Schedule
Having a template construction schedule for your business sometimes doesn't seem like much. But actually, it is quite essential to help tidy up your entire activities of construction and project involved in it. Here are the essential functions of having a construction schedule:
Such a schedule can give you an excellent idea when the client gives you a project to finish. If you think that you can't finish it based on the deadline you agreed on, you must propose or submit the different schedule to your client to make a new agreement.
Find out the project's schedule
By having a template of the construction schedule, it allows you to count the original costs that sometimes called supervision and management costs. It also allows you to count the running cost too.
Have an early calculation
This template also will help you to have an early calculation that will allow you to find out if there is any adjustment that you should make. You can give the estimated budget to your client as well as the schedule. The aim is to give a better idea to your client related to the project so the chance for your proposal to be approved is big too.
Inform responsibilities to clients
The schedule template can also present the responsibilities your clients have to do once the project is finished. The clients also can give you related information or access throughout the entire project's course by using this template.
Predict the contractor's cash flow
Many contractors usually end up having difficult times to finish a project due to the lack of cash flow. The reason is that a lot of money in the projects doesn't handle the activities in the field that actually financially draining. Or the other case is that the conditions of the payment are not favorable.
A good schedule template can be a good way to open communication between the contractor and you. Having a good document means that both of you are in the same agreement and you have approved all the contents stated in the document.
By having a schedule template, you can express your expectation whether they make sense. It also allows you to check whether your project is failing or delaying behind the deadline. You can begin a discussion with your contractor about the time when there is any delay and ask what should be done as well as the reason why it happened to fix the issue.
You can also take advantage of the construction schedule template to monitor your budget. You can see the entire aspects of your project as well as the progress. You can have an excellent idea once payments will be expected whether it is for hiring subcontractors or for supplies. Having your payments before the deadline will also make the project flows smoothly and also reduce the possible delays.
Construction Schedule Template
Construction Schedule for Building a House
Construction Schedule Template Free
Construction Schedules Template PDF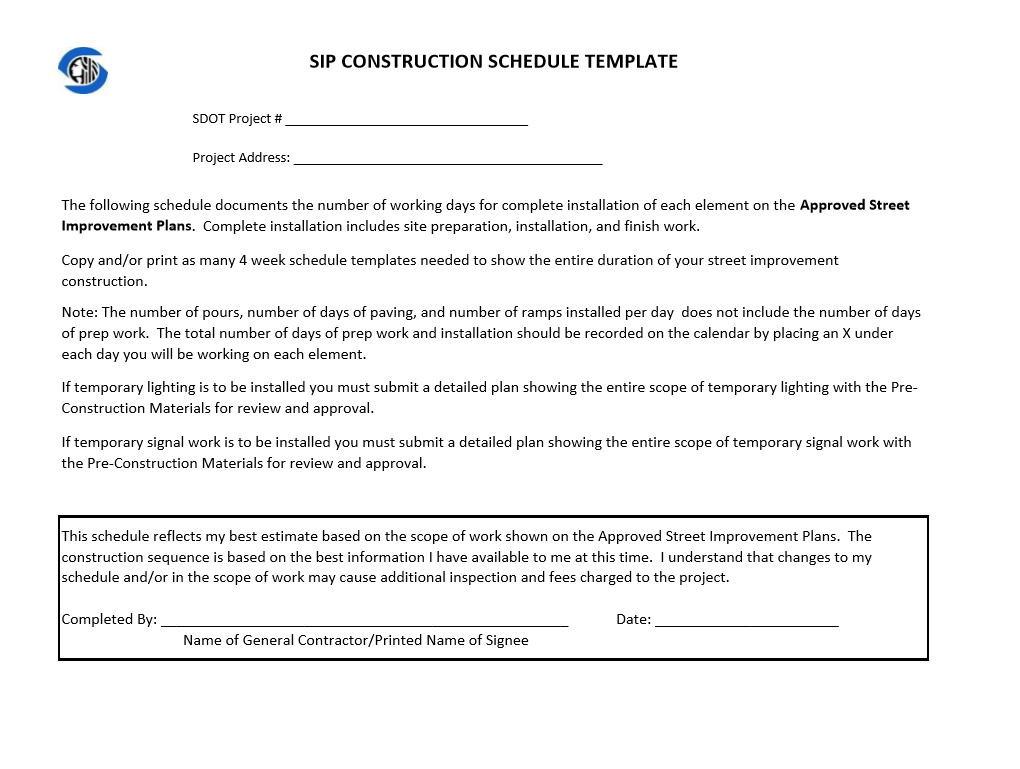 Construction Schedules Using Excel Template Free Download
Free Construction Schedules Template Excel
Office Renovation Project Plan
Residential Construction Schedules Template
SIP Construction Schedule Template Free PDF Format
Commercial Construction Timeline Template for Excel
Construction Project Planing and Scheduling
The Most Used Techniques in Making Construction Schedules
It is important to have an Excel construction schedule template for your project that helps you to be more aware of its progress. You can see whether your plan is on the right track. One of the most used techniques in creating construction schedule is the critical path method.
The critical path method doesn't only identify, but also assigns the beginning and ending dates based on a certain key or logic indicators that are used in deciding how activities should be in order. Specific steps should be done in creating a schedule by using these following techniques:
Creating a list contains all the activities
Coming up with the entire network that shows the logical relationship among and between all the activities
Creating an assessment related to the duration of every activity
Coming up with a schedule and building the beginning and ending times of every activity
Creating assessments related to the sources that are needed for the project
So, we hope that after reading our article you can understand better about the functions of the construction schedule. It can help you to monitor not only your budget but the progress in the project. You can download one of our suitable templates to help you save your time and money. Good luck!